Deerskin Products
Working with a range of suppliers, farmed skins of red deer from venison production are collected and processed into a range of luxurious leathers for:

• Premium outer garments
• Leather goods
• Historical
• Interior design
• Re-enactment

And a range of different aesthetics and applications:
• Finished grain leather
• Aniline dyed "naked" crust leather
• Hunting suede
• Buckskin (abraded grain)
• Hair – on skins
Are all available, matched to the customers shade and finished to precise requirements.
The fundamental tanning method makes leather suitable for a particular end use:

Chrome tanned leather (around 85% of the leather in the world is tanned with chromium salts) has a high heat resistance and makes a thin skin of good strength and suppleness possible during further processing and can be dyed to strong, bright shades. The leather can have an advanced water-resistance property chemically engineered into the process, making it most suitable for the wonderful British Climate, while remaining supremely soft and breathable.
Chrome leathers are used for soft, flexible articles:

• Garments
• Gloves
• Soft leather goods- bags and accessories

Vegetable tanned leather is characteristically beige to brown in colour, depending on the blend of tanning agents used. This leather is firmer by nature and difficult to dye to fashion shades, making more "muted" and traditional shades most appropriate. This is the most historically accurate tanning method used for repairing and re-creating ancient artefacts. Although a much faster process today than the "traditional" method of a year and a day in tanning, stipulated by the Tanner's Guild in the 15th Century, the materials and methods have changes little over centuries. This leather is used for more leather goods, than apparel products.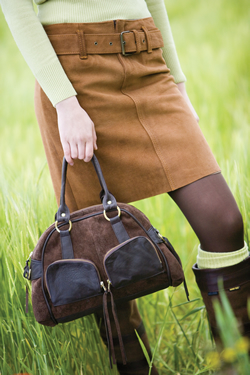 • Bags
• Cases
• Wallets and small leather goods
• Waistbelt trim
• Equestrian accessories

Skins can be processed as "hair-on" using a different tanning method, producing full summer or winter coat articles for:

• Interior design Rugs
• Wall hangings
• Scatter cushions
• Hair-on panels for incorporating in designs for leather goods
The skins are worked through a number of different factories on a sub-contract basis, each
specialising in the application of their specific technology, so, guaranteeing optimum results,
compared with processing all under one roof.
Contract tanning / dressing / finishing can be arranged by the batch

Contact us for prices
Product photographs courtesy of HFV